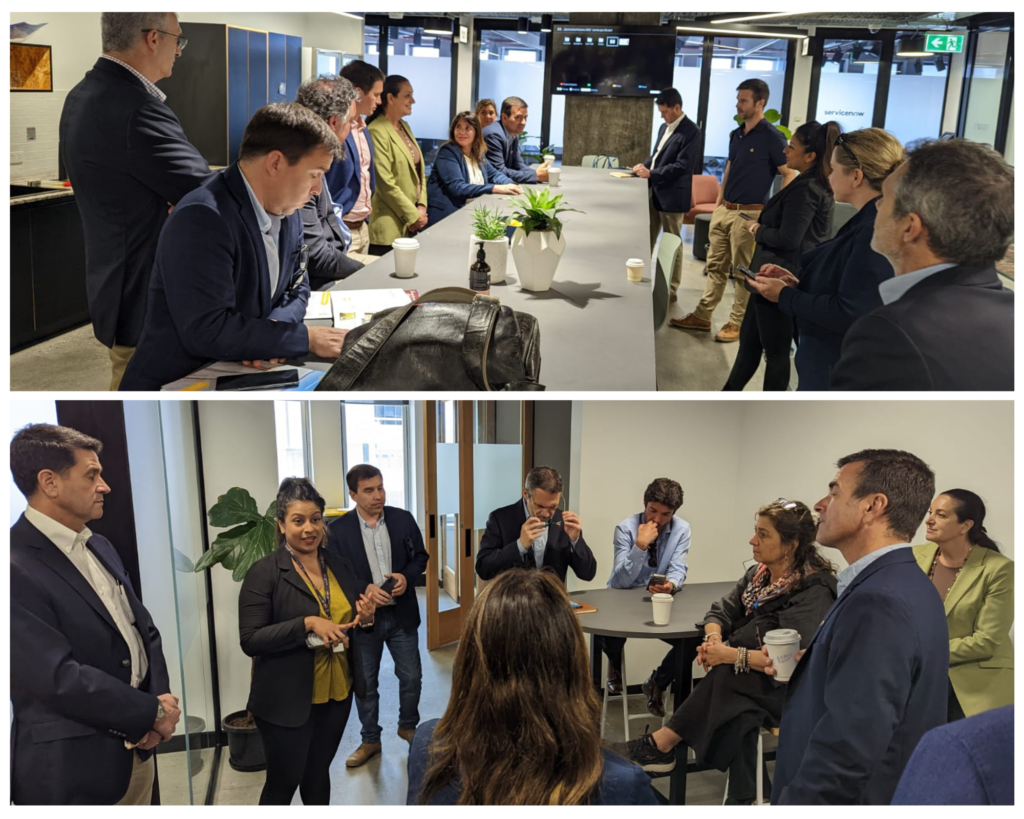 Amira Globla was thrilled to welcome a delegation from Global Alliance member, AndesMETS, in Perth, Australia recently.
Twenty-two members of AndesMETS and Auscham visited as part of a trade delegation to encourage innovation and collaboration between Chilean and Australian METS companies.
AndesMETS is a network of METS companies servicing the mining industry in the Andes region. Auscham is the Chilean Australian Chambers of Commerce.
AndesMETS is a member of the Amira Global Alliance.
During the visit to Perth, they visited CORE Innovation Hub, the Australian Automation and Robotics Precinct (AARP) at Neerabup, and the Future Battery Industries CRC (FBI CRC).
The visit to FBI CRC included a comprehensive run-down on the initiative to advance the downstream processing and value adding in the battery value chain and the work happening in Australia in this space.
Amira Global CEO Dr Jacqui Coombes said she was confident the visit would be beneficial for both the Chilean and Australian mining communities.
"We are thrilled to host AndesMETS, who are a member of our Global Alliance, and Auscham. The visit highlights the spirit of collaboration in the international mining sector, particularly in South America. There are endless opportunities to work together to develop products and services that bring step-change to our industry," Dr Coombes said.
AndesMETS President Mauro Mezzano was impressed with the mining innovation in the region.
"Andes METS and Auscham are very grateful of having met Amira during our Mining Trade Mission to Australia 2022, and the possibility of visiting centers of applied innovation in WA. All of those we met with, and the sites, are driving innovation in very relevant areas of the mining industry. We value Amira´s availability to support this mission and look forward to developing a long-term relationship fostering collaboration between METS from both regions," Mr Mezzano said.
CORE Innovation Hub National Innovation Lead Renee Hakendorf said missions such as these were valuable pathways for improving mining operations.
"CORE Innovation Hub is pleased to be involved with the AndesMETS visiting delegation. To be able to connect with the international energy and mining ecosystem provides potential new avenues for collaboration and growth for CORE and its members along with the opportunity to continue to develop the local ecosystem," Ms Hakendorf said.
FBI CRC CEO Shannon O'Rourke said the visit to the CRC was an opportunity to progress the mining industry's objective toward net zero.
"Chile has an ambitious goal to increase their share of renewable energy to 70% by 2030, with battery technology key to achieving that aim.  Renewables supplied over 43% of Chile's electricity in 2021; compared with Australia's 29%. "Chile holds the worlds' largest lithium resource, and Australia is the worlds' largest lithium producer. Our two nations have a unique opportunity to help the world achieve net zero. We welcome the opportunity to exchange knowledge and expertise with the delegation from Chile to advance the existing research into mining and mineral processing," Mr O'Rourke said.
The delegation met with miners, suppliers, and the broader Australian mining ecosystem in Brisbane, Sydney, and Perth.