What is it and how can it be used improve your company's bottom line
Amira Global is delighted to host a Webinar presented by Nick Houldsworth, the Environment Market Leader for GHD in Western Australia. Nick has over 20 years' experience in circular economy, sustainability strategy and implementation, resource efficiency and sustainable decision-making.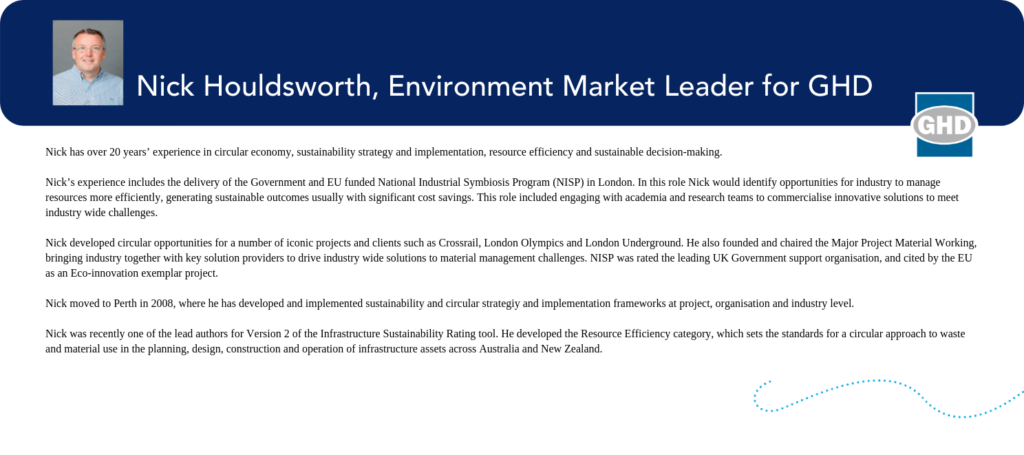 In a finite world with a growing urban population, consumption and demand for resources there is an ever-increasing imperative to manage resources more sustainably.
The concepts of resource efficiency and eco-efficiency ('producing more with less') have long been established as a core element of sustainable development, alongside the need to reduce the associated supply chain impacts of resources use and the impacts of waste.
More recently, the concept of the circular economy has emerged as an alternative economic model. In summary, a circular economy seeks to minimise the need for new resources within a system by closing the loop and making waste itself a resource. This is in stark contrast to the traditional linear economy that operates on the basis that new natural resources are always available. Thus, the circular economy encourages design based on the ability to continuously re-use to reduce
The dependency on sourcing new materials. Moving towards a circular economy isn't just about our climate change response, it is simple common sense to reduce the volume of waste and materials we move into, out of, or across our region.
A closed loop approach to our economic system is particularly relevant to the resource sector, with huge volumes of material being consumed and produced, often in remote regions with high logistics costs. The post-Covid world will also see industry look to simplify complex global supply chains and make more use of local supplies.
Nick will provide a summary of what circular economy means by focusing on real examples where industry has enhanced their bottom line by applying circular economy thinking.