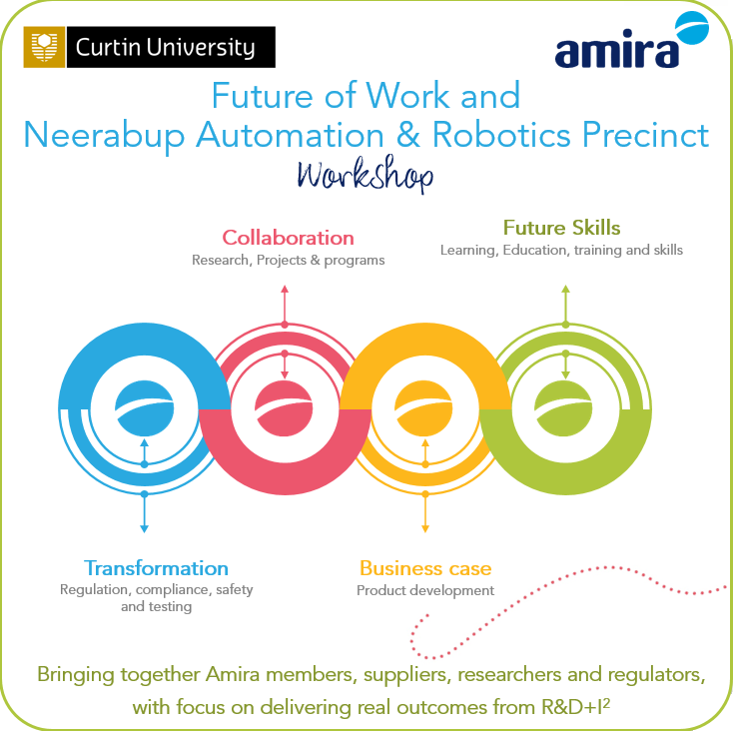 Join us on Thursday 18th June to identify how to be part of preparing the Neerabup Automation and Robotics Precinct (NARP) and the allied program of Work in the Digital Age.
Our joint workshop aims to identify the Future Workforce challenges and requirements of a Robotics and Automation future, and how NARP may facilitate advances in innovations, capability and learning technologies.
If you can make it face to face to share in the morning tea register here.
If would like to join us via webinar, register here.
Thursday, 18th June
1000 – Registrations. Tea/Coffee
1025 – Open & Set the Scene
1030 – Announcing Amira Global ROAR 1010 2020
1050 – Neerabup Automation & Robotics Precinct
1100 – Research Hub for Work in the Digital Age
1115 – Ideas, Discussions, Morning Tea and Tea/Coffee
1200 – Event Ends
We're looking forward to sharing a morning tea with you face to face (our first emerging from Covid isolation face-to-face event!), and welcoming you virtually if you find yourself border constrained,
Register to join us for our face to face morning tea
Register to join us via webinar