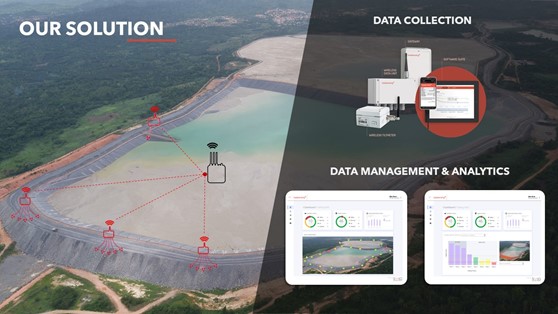 Andrea Bartoli | Worldsensing 
Theme: Avoiding catastrophic failure: monitoring and management of information to predict failures
Project title: Advance tailings dams risk management system based on IoT
Research team:
Offerings to sponsors:
The proposal simplifies the monitoring and maintenance processes for tailings dams. It creates an intelligent monitoring and operational management framework to automatically collect multiple sources of data and calculate the safety factor in real time.
Summary:
The proposal is an end-to-end solution for tailing dams monitoring composed by geotechnical and structural sensors, connected IoT devices and software tools for data management and analytics. The system will allow end users to automatically collect information, integrate, and combine them with additional sources of data (inSAR, GB-SAR, total station, etc.) and calculate the safety factor exploiting complex mathematical model to anticipate and avoid failures.
Benefits to industry:
Efficiency
Eliminates need for manual work (manual data collection and interpretation, etc.)
Reliability
Secure and trustable data collection in real-time
Safety
Sustainability
Energy efficiency and reduce CO2 emission
Regulation
Cost-saving
clear ROI from digitalization: CAPEX vs OPEX
Recordings of each submission are available to Members only. Please click on the link below to request access to the recordings and nomination form.