We are recognising the fantastic people working on Amira projects around the globe. Today, we spoke to Fydji Sastrohardjo, a researcher in the South American Exploration Initiative (SAXI).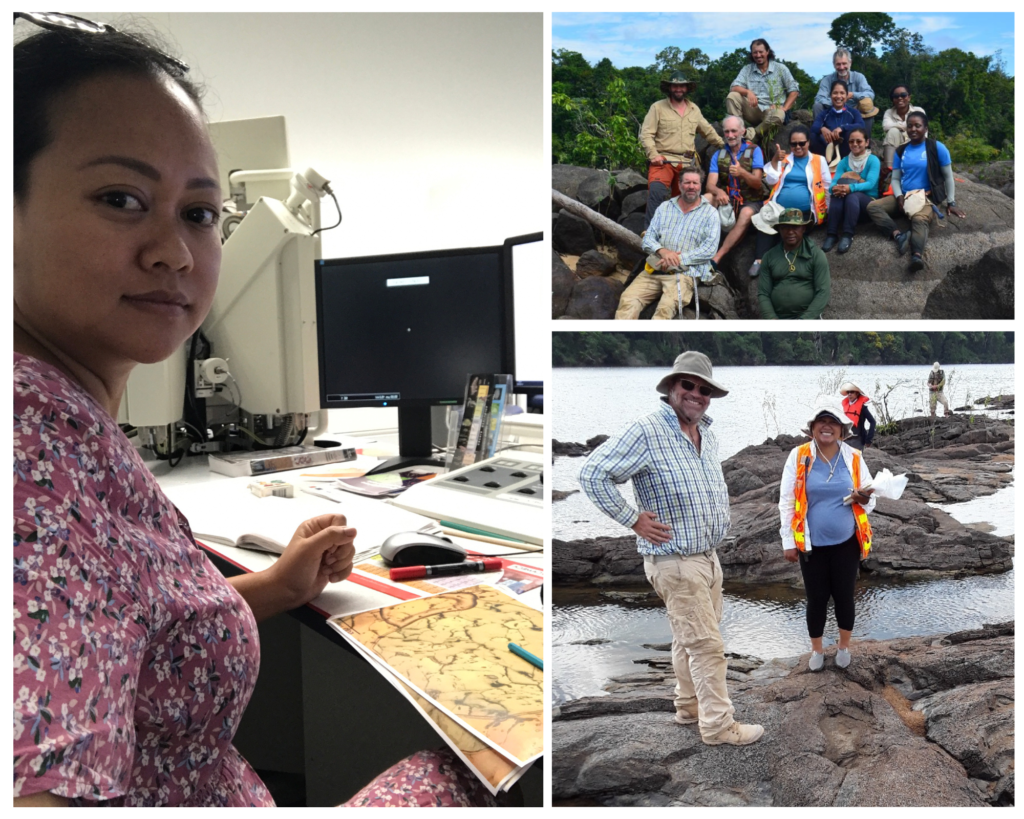 Fydji is a lecturer and researcher within the Department of Geosciences at the Anton de Kom University of Suriname in Paramaribo. She is also the program coordinator of the MSc program in Mineral Geosciences of the same department.
The Anton de Kom University is the only academic higher education institution in Suriname to train geoscientists. It currently offers a BSc Geoscience program, a MSc Petroleum Geoscience and Engineering program and a MSc Mineral Geosciences program.
A number of graduating students have done research topics related to SAXI work.
Tell us about your role in the SAXI project?
I am currently doing my PhD working on Module 4 P1061B project studying the Shield scale structural and thermal-tectonic evolution. I am looking at the nature and significance of high grade metamorphic rocks of the Guiana Shield. The project is in joint supervision between the Paul Sabatier University of Toulouse, Utrecht University and the Anton de Kom University of Suriname.
What is your research background in this area?
I always knew I wanted to become a geologist. After I obtained my BSc degree in Mineral Resource Management in 2010, I started working for a junior gold exploration company and later on for IAMGOLD's Rosebel Gold Mines as an exploration geologist.
In 2015 I pursued my MSc degree in Mineral Geosciences. It was a challenging period, working a full-time job with a 14/7 rotational schedule, but I am happy I persevered.
In 2018 I decided to change careers and transitioned from the industry to academia. I currently teach Physical Geology for first year students and Geochemical Exploration for third year students. And now I am pursuing my PhD with SAXI to further build on my academic career.
What is your research passion?
I would say fieldwork is my passion as this was definitely a career defining experience for me. This goes back to when I myself was a bachelor student. Even as a student I understood the lack of basic tools and opportunities that were offered at better universities. Thanks to enthusiastic lecturers we were still able to do some amazing fieldwork activities. We visited pristine locations that not everyone gets to see.
Coming from that I always wanted to do my part to improve the department and give students a better chance than I myself got. Last year, as part of my PhD, I participated in a SAXI organized fieldwork in south Suriname that included a team of geologists with different specializations. During the group discussions I could gather different perspectives and this was so insightful. I learned so much and I'm hoping to pass this same level of knowledge onto my students one day.
How long have you been a researcher?
I consider myself a beginner researcher. I am actually enrolled in course on University Research Qualification and to my opinion I still have to develop some skills and qualities. I don't have peer reviewed publications to my name yet, but this will certainly change in the near future.
What is the best thing about your job?
I get to inspire the next young generation geoscientists. My goal is to spark their intellectual curiosity towards geology. It gives a sense of fulfillment to know I can help young people chose and understand their future and prepare them for the field they'll be working in.
Why do you think SAXI is important?
For over 100 years geological and mineral data have been gathered all over the Guianas, however, the resulting mining projects have been limited. In my opinion that is in part due to the lack of large scale compilation and cross interpretation of all this available data.
SAXI offers us "a fresh pair of eyes" to look at various geological regions, cross-reference between the South American countries and our West African counterpart and potentially come up with new and improved models which may lead to a better understanding of the regional geology which will eventually lead to discovering new mineral deposits.
Without the SAXI cooperation the data would probably still be collected by various individuals but it would remain scattered and underexplored.
How do you see SAXI benefiting industry?
I think this ties back to my previous answer. As mineral deposits are getting harder to find we need a combination of expertise and resources from both the industry and academia to understand the regional geological model and mineral system for better exploration targeting. Furthermore, SAXI is building capacity, allowing for younger geologists like myself and other technical experts of this region to profile themselves.
Tell us one special thing about you.
I'm a full time teacher/researcher at the university, a full time wife and mom of two very young daughters and pursuing my PhD. I've always been determined and ambitious, but this is honestly by far the most challenging period in my life in terms of finding a good balance between work/research/life. But I wouldn't have it any other way and it is a privilege to work with SAXI. I will (have to) work very hard to achieve my goals and hopefully I will have success story to tell at the end of the road.