The world stands on the brink of an unprecedented green revolution, with demand for sustainable energy resources anticipated to skyrocket by a factor of ten by 2030. Poised at the heart of this revolution, Africa is brimming with new energy resources such as copper, cobalt, Rare Earth Elements (REEs), and graphite – all crucial ingredients in the quest for decarbonisation.
Amira is excited to unveil the Pan-African Decarbonisation Institute. Our vision is clear:
Vision
To create a self-sustaining pipeline of Pan-African research, operational, and technical leadership, talent, and skills in decarbonisation, from resource management to product development and delivery.
We are embarking on a mission to form a virtual, Pan-African institute of complementary and supplementary research, development, and training. This institute will synergize, connect, and coordinate to co-create a pipeline of talented Africans. We are determined to position Africa as a leading player in the decarbonisation value chain, transforming Africa's energy sector by leveraging our new energy material resources and research, development, and training capability.
Building on Amira's unique approach
Our unique approach is fortified by the strength of Amira, a globally renowned and trusted member-based organisation. Amira's proven framework consists of five components which together create a robust foundation for delivering collaborative R&D+I2 (innovation and impact or implementation):
Governance: For over 60 years, Amira has been providing a trusted platform for collaborative R&D, demonstrating reliable financial stewardship and transparency for funders.
Global Alliances: Amira's approach connects researchers, governments, investors, and industry at both a regional and global scale. Their Global Alliances Program fast-tracks transformation through new technologies.
Knowledge Platform: Amira's developing knowledge platform, collaborateOre, will provide industry decision-makers with efficient access to trusted, validated, and aggregated outcomes from global industry R&D.
Defragmented R&D+I2: Amira coordinates a united response to industry challenges, accelerating the dissemination and deployment of solutions into industry.
High ROI on R&D Investment: Amira's model delivers a 15x to 20x return on a company's investment in R&D+I2.
Our Pan-African Decarbonisation Institute will build upon these strengths to ensure that economic return from Africa's new energy resources is maximised, and that economic benefits accrue to our communities and importantly to our industry globally.
Why Africa is Pivotal in the Decarbonisation Era:
Africa's remarkable position on the global stage, teeming with potential and promise, is the driving force behind the creation of the Pan-African Decarbonisation Institute. Let's explore why:
Abundant Resources: Africa is a treasure trove of resources, home to around 30% of the world's total, including new energy resources that are essential for both current and future needs.
Mining Expertise: With a long-standing history in mining, Africa has a unique opportunity to introduce transformative changes in mining methods, equipment, and community co-creation practices.
Young, Dynamic Population: Over 70% of Sub-Saharan Africa's population is under 30 years old, symbolising a rising tide of young leadership voices ready to shape the future of the continent.
Competitive Advantage: These strengths give Africa a competitive edge, setting the stage for the continent to lead in the decarbonisation era.
Building on these strengths, the Pan-African Decarbonisation Institute aims to:
Foster continental collaboration to optimise the use of R&D+I investment
Fast-track the development of transformative knowledge, data, and technology
Expand the capability base to harness these opportunities, providing a platform for African talent to tackle the industry's most significant challenges
Speed up the adoption of new community engagement protocols, bolstering relationships with communities and investors
Synchronize decarbonisation policy research & development across Africa
You are invited to join us in unlocking Africa's potential in this decarbonisation journey, and together, we can ensure a prosperous, resilient, and sustainable future for our continent.
Value Proposition of the Pan-African Decarbonisation Institute:
At the heart of the Pan-African Decarbonisation Institute (P-ADI) lies a strong commitment to maximizing Africa's potential in the global decarbonisation landscape. Here's a snapshot of our diverse value proposition:
R&D Synergy: P-ADI aims to align and foster the development of both complementary and supplementary research across Africa, integrating current and emerging talent into the global research ecosystem. To maintain global relevance, we will ensure our academic framework aligns with international standards.
Educational Collaboration: We are developing partnerships for co-branding of degrees with leading international academic institutions. This will enhance the global recognition and appeal of our educational offerings, driving educational development within the region.
Industry Connection: P-ADI will bridge companies with African research and development, fostering the growth of regional decarbonisation knowledge, data, technologies, and capability.
Policy Alignment: P-ADI will facilitate connections between government agencies, nurturing the development of aligned policies and regulations. This will stimulate both domestic and export growth in decarbonisation efforts.
Leadership Development: We are committed to nurturing leadership skills and talent. This will empower industry and agencies in working with communities to ensure public trust and social license – a cornerstone of successful decarbonisation efforts.
Talent Incentives: To retain regional talent and encourage educational development, we will design and implement an array of incentives. These incentives will promote local talent growth and help address the unique challenges of decarbonisation.
Broad Stakeholder Engagement: P-ADI will connect mineral resource operators, Mining Equipment, Technology and Service providers, and end-users, fostering a critical mass across Africa to address decarbonisation.
Together, let's position Africa as a major player in the decarbonisation era and forge a sustainable, prosperous future for our continent.
Proposed Programs
The initial programs we are envisioning at the Pan-African Decarbonisation Institute (P-ADI). These are subject to sponsorship and are designed to directly address the multi-faceted aspects of decarbonisation:
Program 1: Decarbonisation Minerals Discovery & Extractive Technologies
This program will delve into technologies and processes to enhance mining resource efficiency and refine products used in decarbonisation. Key areas include environmental considerations, water optimisation, operational skills training, and talent and capability building.
Program 2: Decarbonising the Mine
We will focus on R&D + Innovation to revolutionise mining operations, aligning them with corporate decarbonisation targets. This includes driving operational decarbonisation efficiency.
Program 3: Supply Chain Development & Integration
This program will investigate supply chain optimisation, including decarbonised transport routes, regional business development, Pan-African infrastructure optimisation, and battery precursor manufacturing.
Program 4: Leadership, Policy & Economics
We aim to foster industry and agency leadership for a coordinated Pan-African approach to minerals and decarbonisation policy, economics, and industry development. A strong focus will be on addressing Environmental, Social, Community, and Governance (ESG) issues.
Our programs are designed to connect research, industry, and policy-making, ultimately positioning Africa as a major player in the global decarbonisation landscape.
P-ADI addresses the critical components to derive benefit for all participants
Initial Proponents
University of Cape Town (UCT), South Africa
Integrating the fundamentals of science and engineering into systems design and inter-disciplinary programs to produce world-class graduates and internationally competitive research
The University of Cape Town (UCT), Sub-Saharan Africa's oldest continuously operating public research university. UCT consistently tops African universities in global rankings and we are delighted to leverage their rich knowledge and resources in our collective journey towards decarbonisation.
Our collaboration with UCT's Department of Chemical Engineering, which boasts a strong focus on Minerals and Energy, will provide world-class education and internationally competitive research. This partnership will integrate the fundamentals of science and engineering into system designs and interdisciplinary programs, producing world-class graduates and driving impactful research.
Here's a snapshot of UCT's potential areas of contribution to our mission:
Technological R&D: UCT will contribute to the research and development of technologies and processes for the primary production of critical materials for a decarbonised future, adhering to Environmental, Economic, Social, and Governance (EESG) principles.
Green Energy: UCT's team will explore technologies for the generation of green energy and energy sources, including biofuels, synthetic diesel, hydrogen, and fuel cells.
Modeling and Scenario Analysis: Energy, energy-economic, and carbon footprint modelling and scenario analysis will be conducted at sectoral, national, and regional levels.
Mineral Value Chain Analysis: UCT will engage in the analysis and development of national and transnational mineral value chains for Africa.
Mine Closure Analysis: We will analyse mine closure risks and post-closure opportunities through repurposing degraded mine land, infrastructure, and waste.
Capacity Building: UCT will help in the development of research, technical, and leadership capacity and skills through short courses and post-graduate degree programmes.
Community Engagement: UCT will provide industry leadership for community engagement, a critical aspect of successful decarbonisation efforts.
Reminex Research & Valorization Center, Morocco
Reminex SA Research & Valorization Center (Reminex) is a pioneering institution with over 40 years of experience providing innovative solutions to the mining industry.
Reminex has a proven track record in the development and industrialization of processes for Energy Transition Metals (Cobalt, Copper, Nickel, etc.) and Precious Metals (Gold, Silver) in Morocco and across Africa. Their team's diverse expertise and state-of-the-art facilities are crucial in driving innovative research and development initiatives.
Here are some areas where Reminex's contributions will be vital to P-ADI's mission:
New Processes Development: Reminex will focus on developing new processes for critical energy transition materials deposits in Africa.
Innovative Solutions: They will contribute to the synthesis of battery electrode materials and products, such as cathodes and graphite, utilizing Africa's resources.
Environmental Transformation: Reminex will transform environmental challenges into business opportunities by revalorizing mining wastes, promoting a shift towards sustainable practices.
Promoting Circular Economy: They will champion the reprocessing and recycling of scraps, end-of-life batteries, cathode materials, and secondary materials, contributing to a circular economy.
Operational Excellence Initiatives: Reminex will work on implementing operational excellence initiatives in mining operations to improve plant efficiency, including power consumption, water recycling, product recovery, and quality & grade improvement.
This collaboration with Reminex aligns with our vision to make Africa a leading player in global decarbonisation efforts and to ensure that economic return is maximized for Africa's new energy resources.
Kwame Nkrumah University of Science and Technology (KNUST), Kumasi, Ghana
The Kwame Nkrumah University of Science and Technology, Kumasi (KNUST) is a leading institution renowned for advancing knowledge in science and technology.
Based in Kumasi, Ghana, KNUST's College of Engineering offers various engineering programs with a specialized focus on areas such as mechanical, chemical, materials, metallurgical, electrical and electronic, computer, telecommunications, civil, geological, and geomatic engineering.
Notably, the college houses the Brew-Hammond Energy Centre (TBHEC) and the Regional Water Environment and Sanitation Centre (RWESCK), both of which have fostered international collaborations and a wealth of expertise.
Here are some areas where KNUST's contribution will greatly enrich P-ADI's mission:
Battery Materials Extraction: KNUST will develop technologies for treatment and extraction of battery materials such as Lithium, Manganese, Cobalt, and Nickel from primary and secondary resources.
Metallurgical Waste Evaluation: They will evaluate metallurgical waste for the extraction of essential battery materials, transforming waste into valuable resources.
Biomass Conversion: KNUST will conduct pilot testing of the conversion of biomass into syngas for electricity generation and its connection to the grid.
Energy Materials Preparation: They will prepare energy materials from bio and non-bio resources, including activated carbon, ores, and waste materials.
Catalytic Conversion: Their research will focus on catalytic conversion of lignocellulosic materials into biofuels and organic pollutants in wastewater.
Solar PV Systems: KNUST will work on distributed grid-connected solar PV systems in rural communities, including mines.
Sustainable Water Management: Hydrological, hydrogeological, and hydrogeochemical assessments of groundwater will be conducted for sustainable water management.
This partnership with KNUST will not only contribute to meeting decarbonisation goals but also cultivate a new generation of innovative leaders in Africa.
University of Mines and Technology (UMaT), Ghana
The University of Mines and Technology, Tarkwa (UMaT) is a specialized research university based in Ghana's Western Region.
UMaT is renowned for its expertise in mining, petroleum, related engineering disciplines, and management studies, featuring distinguished professors and researchers across several academic departments. These include geomatic engineering, geological engineering, mining engineering, minerals/metallurgical engineering, environmental/safety engineering, renewable energy engineering, and more.
UMaT's aim aligns closely with P-ADI's vision – to increase value chain participation for decarbonisation industries through collaborative research and development. They have an interest in the extraction and refining of Africa's new energy materials, including copper, cobalt, rare earth elements (REEs), and graphite.
The university's key potential areas of contribution to P-ADI's mission include:
Hydrometallurgical Extraction: UMaT will conduct research on hydrometallurgical extraction of decarbonisation and critical minerals from secondary host materials, including metallurgical slags, e-waste, and batteries.
Metallurgical Recovery: They will develop technologies for the metallurgical recovery of lithium from primary lithium ores.
Solar Energy & Arboretum Management: UMaT will explore the synergy between solar energy and arboretum management to aid decarbonisation efforts.
Beneficiation of Critical Minerals: The institution will focus on the beneficiation of critical minerals from tailings materials.
Environmental Impact Mitigation: UMaT will develop technologies to mitigate the environmental impact associated with the extraction of decarbonisation minerals.
This partnership with UMaT signifies a step towards positioning Africa's minerals industry as a key player in the global decarbonisation landscape.
African Centre of Excellence for Batteries (ACEB), Copperbelt University, Democratic Republic of Congo, and the University of Zambia, Zambia
@African Centre of Excellence for Batteries (ACEB) is a joint research consortium between universities and researchers in the Democratic Republic of Congo (DRC) and Zambia, backed by their respective governments.
ACEB's commitment to the development of sustainable battery technologies aligns perfectly with P-ADI's vision to decarbonise Africa's industries and economies. The centre is equipped to bring innovative and valuable contributions to our mission:
New Electrode and Electrolyte Formulations: ACEB is working on the development of new electrode and electrolyte formulations for lithium-ion batteries, a critical part of the energy transition.
Battery Pre-Cursors Manufacturing: The centre will aid in the manufacturing of cobalt and battery pre-cursors, enhancing the efficiency and effectiveness of battery production.
Waste Management: ACEB will explore waste management relevant to the lithium-ion battery value chain, ensuring the sustainability of battery production.
Clean Chemicals: The centre is researching the use of clean chemicals for mineral processing operations, reinforcing the commitment to environmentally-friendly practices.
Wastewater Treatment & Electricity Generation: ACEB is exploring combined wastewater treatment and electricity generation from effluent, pushing the boundaries of sustainable energy production.
Bioflotation and Bioleaching: The research into bioflotation and bioleaching further underscores ACEB's commitment to innovative, sustainable mining practices.
P-ADI's partnership with ACEB represents a leap forward in the quest for sustainable, efficient, and effective battery technologies in Africa.
Example: P-ADI: Enabling Research to Optimise Critical Minerals Extraction
The Pan-African Decarbonisation Institute (P-ADI) is at the forefront of supporting research that aims to overcome industry challenges and optimise the extraction and value of critical minerals in Africa. Our approach involves creating strong connections between researchers and sponsors to maximise the benefits of this crucial work.
One compelling example of a P-ADI project in action involves Copperbelt University and the University of Zambia working together with the Nkana Concentrator at Mopani Copper Mines Plc, a company located in Kitwe.
The Nkana Concentrator used to extract both copper and cobalt through a differential flotation process. However, after the closure of their cobalt plant, this process was halted. As a result, both copper and cobalt now report to the smelter slags.
With the increasing value and demand for cobalt globally, the company expressed interest in supporting research to explore alternative economic processes for recovering cobalt from the slag.
This led to the initiation of a research project in collaboration with the Copperbelt University, the The University Of Zambia (UNZA), and other P-ADI researchers. The project aims to explore and develop methods to recover cobalt from the slag, which would not only be economically beneficial to the company but also contribute to sustainable mining practices.
By incorporating this research into the P-ADI program, the learnings from this project can benefit other P-ADI sponsors and contribute to a broader understanding of sustainable extraction methods for critical minerals. This example underscores P-ADI's commitment to collaborative, innovative research that addresses real-world industry challenges and contributes to a decarbonised future.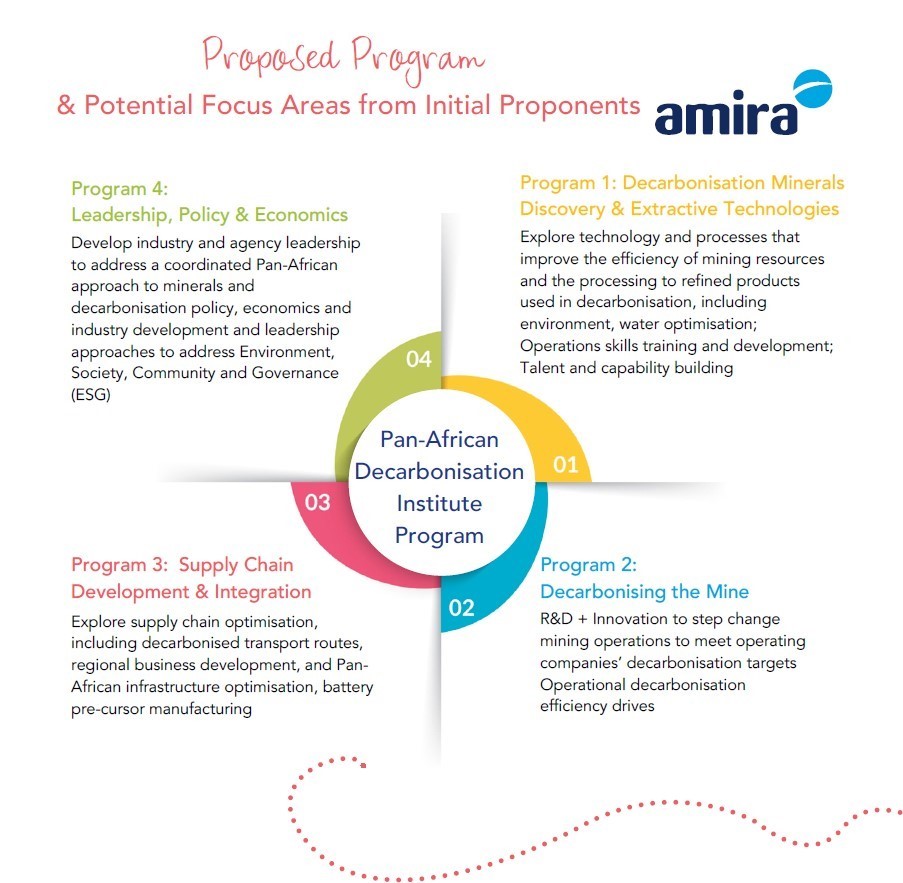 Amira values the contribution of the Initial Proponents and the collaborative approach to developing P-ADI
Your Role
Now more than ever, we need your support to turn this opportunity into a reality.
We invite industry stakeholders, government entities, and individuals to join us as sponsors in this transformative initiative.
Your financial backing will be a pivotal investment in shaping both our industry and Africa's future in the decarbonisation era.
Together, we can capitalise on Africa's potential in this global decarbonisation drive. Let's build a prosperous, resilient, and sustainable Africa.
Take Action
Contact us:
Anthony Anyimadu GM Africa
or Jacqui Coombes CEO Amira Global